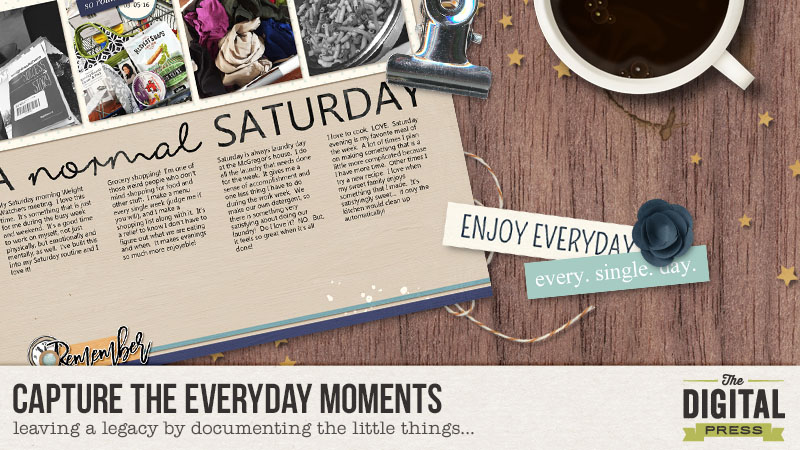 I'm sure I'm not the only memory-keeper out there that loves to scrap the 'big' stuff in life. You know what I mean…  the vacations, the birthdays, the celebrations, the weddings, and the holidays. There are obviously many reasons to document those "big" moments, and they definitely have an important place in our scrapbooks.  In fact, going through photos of those "big" events at a later date conjures so many memories and wonderful feelings. Anyone else feel the same?
But… what about the "small" things?
So much of our lives are made up of the little everyday moments. Someday, we'll love remembering those moments, too.
I'm talking about the moments, activities, and feelings that happen during the course of a "normal" day. I've really been contemplating this idea lately — the question of "who on earth would want to know what happens during my typical day?" But then I think to the future… I think of my kids growing up to become adults, and looking through the scrapbooks that I put my heart and soul into creating. I think of them reminiscing about vacations we enjoyed, celebrations we happily celebrated, and proms that they attended. I also think of them looking through these scrapbooks and thinking about our everyday life. I want them to see and remember all the facets of our lives… from the "boring" to the exciting. I want them to know ME. I want them to see how I spent my Saturdays (because, let's face it, they are a little clueless when it comes to what goes into running a household!). Scrapbooking is about documenting our lives, and what a great way to share those memories, even the little things.
Here's a layout I recently created that shows what a "normal" Saturday in our life looks like through my eyes (created with Talkative Templates by Scotty Girl Design and Daily | Scrapbook Kit by Little Lamm & Co.)…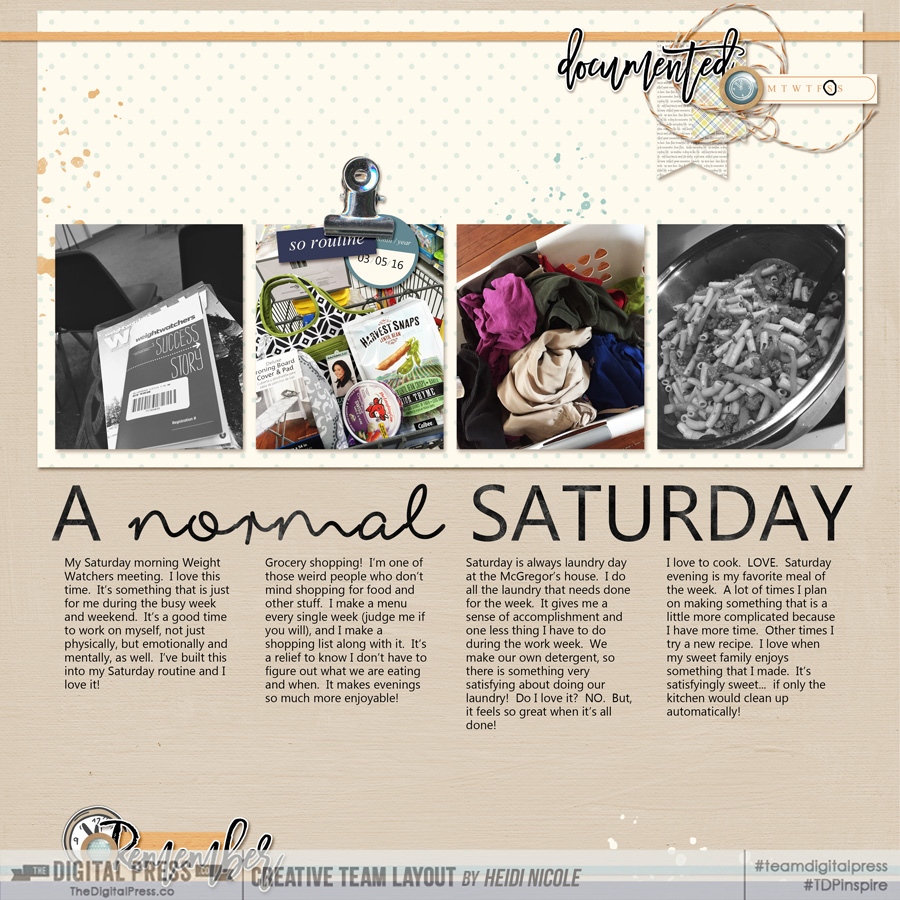 If you need some ideas on the "little" things that you may want to document… just think about what makes up your life each day. You may be so annoyed about the toys on the floor… but, before you know it, there won't be toys on the floor. Capture them while they're a part of your story! How about that pile of dirty laundry? Think of how blessed you are that you are and your family are clothed and warm. Think of sharing a meal with your family… the smiles, the food, the conversation. Don't you always want to remember how it feels right now? What about that wonderful glass of wine that is so deserved after a very long day… take a photo of it and document why it is so deserved! There are so many little moments during the course of our day that all add up to create our lives… and we don't want to forget these "little" things, because they're really not that little. We want to capture them, so they can live on and reflect our real lives…. that's the legacy we want to leave. Our REAL lives.
Here's another great example of capturing the "little" things… this lovely pocket-style page was created by the very talented Farrah of TDP's creative team (using Daily | Photoshop Templates, Daily | Scrapbook Kit, and Daily | Pocket Cards and Printables by Little Lamm & Co.)…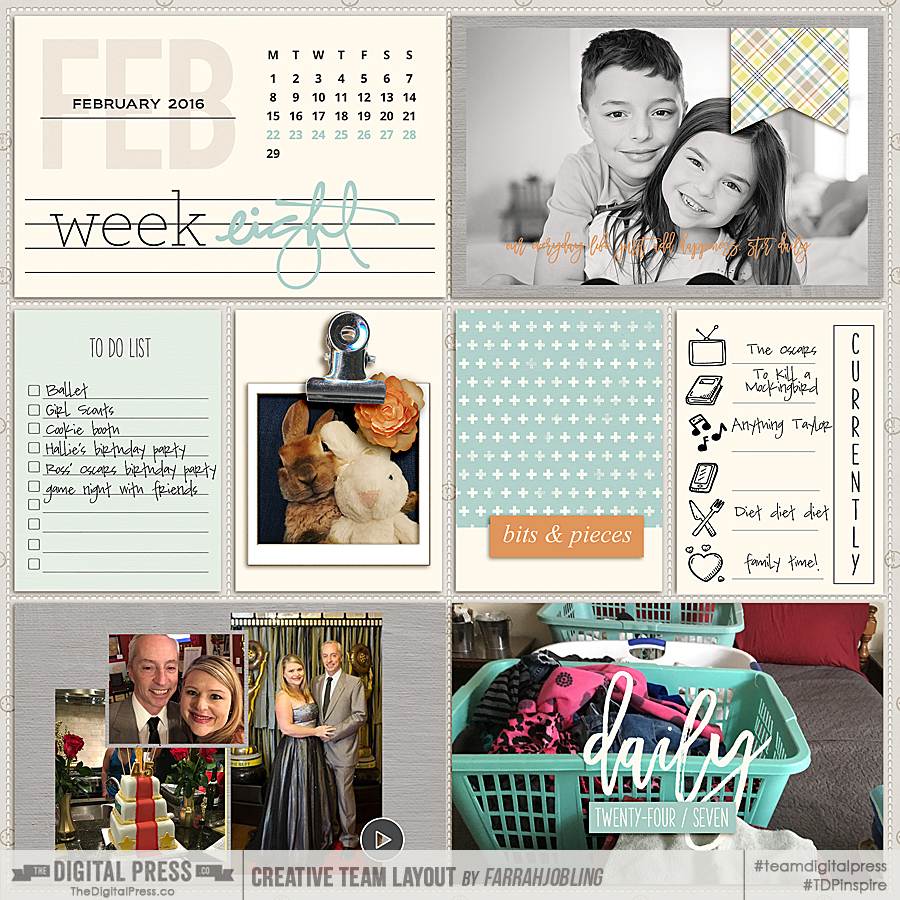 I have one more fantastic "everyday life" layout to share with you… this one, created by Amie, another one of the wonderfully-inspiring TDP creative team members (she created this with the Project Twenty Sixteen | March Kit by Wishing Well Creations and Talkative Templates by Scotty Girl Design)…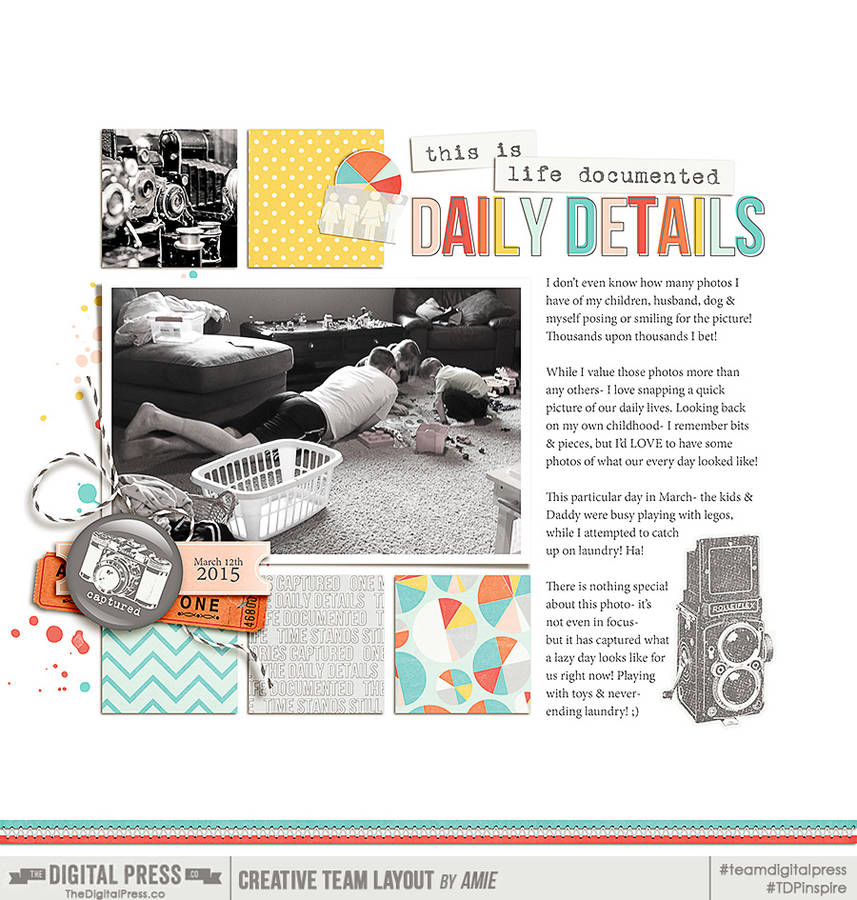 Hopefully this post has given you some ideas about ways to use the "everyday moments" in life to help you capture your real life when you scrapbook. It is such an important part of leaving our legacy!
And now… are you ready to capture your own everyday moments? Head over to The Digital Press's challenge forum, because I have a related challenge waiting for you!
---

About the Author  Heidi Nicole is happily married to an amazing man, a step mama to 2 wonderful kiddos, and mama to 3 sweet and sassy furbabies. She's a radiation therapist by day, and creator of pretty things by night (she's pretty confident that she's hit super hero status, but refuses to wear a cape). She loves cats and huskies, coffee, audio books, Friends reruns, St. Louis Blues hockey, cooking, baking, and traveling. Oh, and wine… she really likes wine. She lives a normal and happy life, and enjoys all the absolutely extraordinary people she gets to share it with on a daily basis!